Hamad
International
Airport (HIA) by HOK
Doha, Qatar
The Hamad International Airport (HIA), is a 'one of a kind' project including the largest expanse of Epoxy Terrazzo Flooring ever installed in a single undertaking. Fribel were contracted to install in excess of 140,000m2 throughout the project. Over time the Hamad International Airport (HIA) will become the gateway to Qatar and the major hub for its world-class airline, Qatar Airways.


The task of successfully completing such a large project was daunting. Well prior to accessing the floor area and commencing the installation, the procurement of materials and the logistics of shipping them to site were enormous.
Hundreds of containers had to be loaded, dispatched and delivered to Doha. The pigmented Epoxy Resin was produced and shipped from the United States, while pre-mixed marble aggregates came mostly from Italy. Metal divider strips where purchased in the United States and custom designed as per the Architect's specification.
Since Epoxy Terrazzo is a poured in-situ product, each component of the material needed within the system had to be distributed throughout the various areas of the site, mixed on location and finally troweled by hand.
Epoxy Terrazzo is not only installed by single mechanics working on their knees but ground and polished on site. For the Hamad International Airport (HIA), Fribel had a fleet of machines grinding, polishing, finishing edges and corners, making this project one of a kind.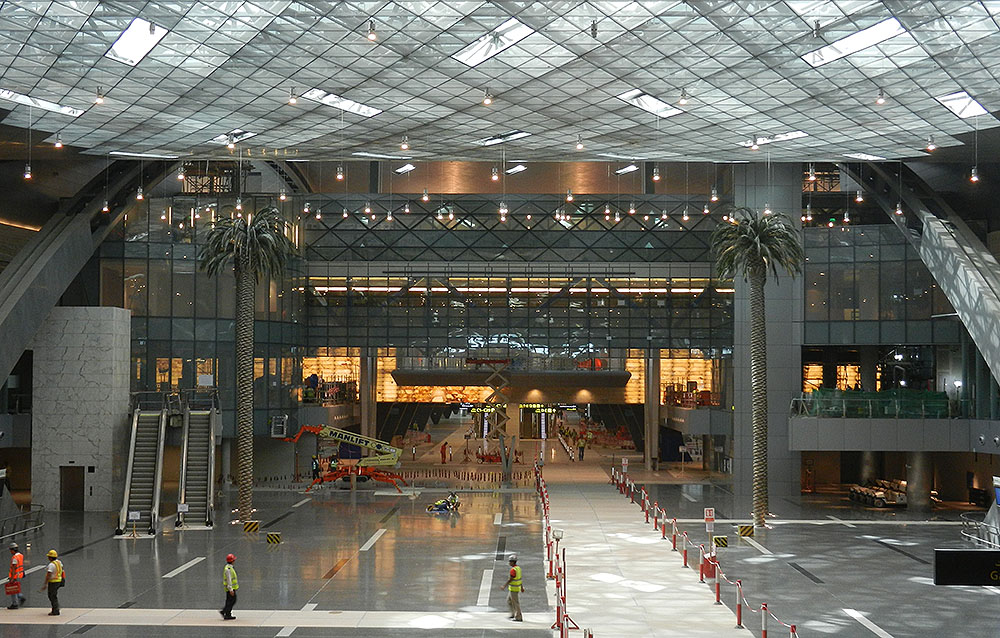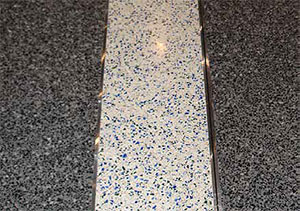 .
The main design architect for the project was the U.S. firm HOK. Their proposed design for the Airport primary floor area consisted of three colours, the majority field being dark grey regularly punctuated with 30 cm wide strips of various lengths, alternating between pure black or white Epoxy Terrazzo.
The floor design follows a repetitive 2.5 meters by 5 meters grid with zinc divider strips framing each panel. While the vertical strips are 20mm, the horizontal strips are 10mm. Control joints are placed regularly throughout the floor and are designed to follow the same pattern and strip size to maintain the visual effect.
The overall construction of HIA-NDIA has been an amazing Architectural and Engineering endeavour, with over 16,000 workers labouring together on site at one time, resulting in a huge mix of nationalities and cultures.
Fribel alone employed personnel from over ten different countries and worked with clients as diverse as Qatari, North American, Japanese, Turkish, Lebanese, Belgian, Syrian, Indian, Malay and Filipino, just to mention a few. On site, one could hear languages from all over the world.
The resulting outcome is a truly fantastic floor, giving an outstanding overall visual impact, well worth the critical consideration of detail. This will only be enhanced with the patina over use, following the millions of footsteps that will pass over it.